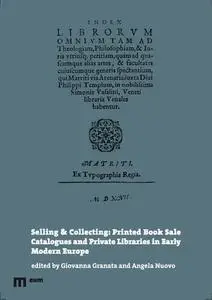 Selling & Collecting : Printed Book Sale Catalogues and Private Libraries in Early Modern Europe by Granata, Giovanna
English | 2018 | ISBN: N/A | 317 Pages | PDF | 6.07 MB
Based on the contributions given at a conference held at the University of Cagliari in September 2017, this collection of essays provides an insight into the distribution and acquisition of printed books in the sixteenth and seventeenth centuries. Publishers' and booksellers' catalogues are examined as evidence of the advertising and selling techniques used by agents in the book trade, with a focus on book prices. The role of sixteenth-century private libraries and the growing phenomenon of book collecting are studied within a commercial frame. In this context, private collections are investigated as places of preservation rather than consumption, of the works being circulated within the book trade.