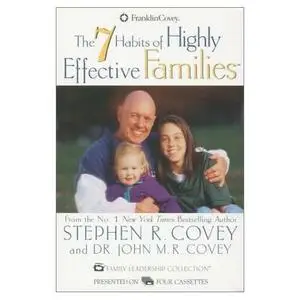 Stephen R. Covey
«7 Habits of Highly Effective Families AUDIO BOOK»
Covey | ISBN 978-1883219116 | (October 1, 2001) | mp3 | 80kbit (VBR) | (38.4 + 34.1) MB

Amazon.com
"What is 'effectiveness' in a family?" asks author Steven R. Covey. He promptly answers with four words: "a beautiful family culture." Building this culture is the primary theme of Covey's parenting guide, a manual based on concepts introduced in his blockbuster, The 7 Habits of Highly Effective People. Covey, a New-Age business guru and leadership authority, has consulted with the world's top corporate and political leaders, but closer to home he is the father of nine children. Here, Covey reinterprets each of his now famous "habits" (Habit 1: Be Proactive, Habit 4: Think Win-Win, Habit 6: Synergize) to apply to parenting and family-life issues. Covey suggests writing a family mission statement, implementing special family times and "one-on-ones," holding regular family meetings, and making the commitment to move from "me" to "we" as techniques to improve family effectiveness. Covey is a brilliant storyteller. By weaving the voices and anecdotes of his wife and children with his own inspirational and informative stories, exercises, and parables, he has created a book with something for all parents interested in enhancing the strength and beauty of their own families. –Ericka Lutz –This text refers to an out of print or unavailable edition of this title.
From Library Journal
A personal-development guru, best-selling author, and father of nine, Covey has done it again. Here he espouses the same seven habits to live by as he did in The 7 Habits of Highly Effective People (S. & S., 1989), but this time the focus is strictly on the family. While his message is not new, it is written with sincerity and simplicity, and even the most career-driven individual should feel passionate about family after reading this book. Covey contends that all families get off track, mostly because they don't know where the track is headed. The remedy: develop a sense of destination. As in Effective People, each chapter here explains the significance of one of the "habits," illustrated by personal stories. Chapters conclude with practical suggestions for putting the habits into action. At times hokey, at times virtuous, always thoughtful and enlightening, this book is recommended for all libraries. [This is the publisher's first adult title.?Ed.]?Kimberly Lynn, Reading P.L., Mass.
-?Kimberly Lynn, Reading P.L., Mass.
Copyright 1997 Reed Business Information, Inc. –This text refers to an out of print or unavailable edition of this title.
From AudioFile
Covey's seven habits of effective people are adapted here to families. The program works well on audio for a number of reasons. Covey's popular ideas are rooted in interpersonal wisdom; he expresses them sincerely in a concise and entertaining manner. He presents a number of useful lists and recommendations with authentic feeling and colorful examples from his own experience. Occasional live segments add variety to the studio recording. Throughout the program a tender, repeated musical theme and Covey's earnest voice offer hope to listeners seeking closer family relationships. For all these reasons, repeated listening will be useful for anyone interested in Covey's ideas. T.W. ©AudioFile, Portland, Maine
Review
Donald G. Soderquist vice chairman and COO, Wal-Mart Stores, Inc. The ever-present conflict between professional life and family life is addressed in The 7 Habits of Highly Effective Families through an excellent blend of principle, common sense, and example. Success is possible in both with the proper sense of priority and balance.
Book Description
This program will help you solve many family dilemmas, such as:
* how to balance your family life with your work life in the midst of life's pressures.
* how to develop a family mission statement that will serve as a foundation for building a beautiful family culture in a turbulent world.
* how to balance "tough" discipline with "soft" discipline by implementing a Third Alternative™ that is both tougher and kinder.
* how parents can maintain control while still giving family members the freedom to grow and develop.
* how to build a high-trust and loving marriage relationship in a world where cynicism, violence, and low trust are prevalent.
Book Info
Audio cassette. Covey discusses building a beautiful family culture in a turbulent world. He offers powerful solutions for solving family dilemmas and the courage needed to make the tough choices to build meaningful, loving relationships. Four cassettes.
About the Author
Stephen R. Covey, an internationally respected leadership expert, is the author of several acclaimed books, including The 7 Habits of Highly Effective People, the New York Times No. 1 international bestseller, which has also been on the Business Week, USA Today, and Publisher's Weekly bestseller lists for more than five years. Sales of this powerful book, which has been published in 28 languages and 70 countries worldwide, exceed 10 million. Dr. Covey is co-chairman of Franklin Covey, the world's premier leadership development authority, which aids organizations in aligning their strategies with proven principles.