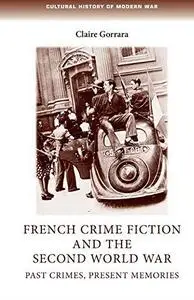 French Crime Fiction and the Second World War: Past Crimes, Present Memories By Claire Gorrara
2014 | 160 Pages | ISBN: 0719095492 | PDF | 4 MB
French crime fiction and the Second World War explores France's preoccupation with memories of the Second World War through an examination of popular culture in one of its most enduring forms: crime fiction. A populist literary form, French crime fiction offers fascinating insights into past and present perceptions of the war years in France, as well as the role that popular culture has played in both shaping and reflecting cultural memories of the Occupation. By analyzing representations of the war years in a selection of French crime novels from the late 1940s to the 2000s, this study contends that such texts open up new avenues for charting the two-way traffic between official discourses and popular reconstructions of such a contested conflict in French cultural memory. Starting with narratives of the Resistance in the late 1940s and concluding with contemporary crime fiction for younger readers, this study examines popular memories of the Second World War in dialogue with the changing social, cultural and political contexts of remembrance in post-war France. From memories of the persecution of Jews and French collaboration to the legacies of the concentration camps and the figure of the survivor-witness, all the crime novels discussed grapple with the challenges of what it means to live in the shadow of such a past for generations past, present and future. Aimed at students and researchers of French history and culture, this study demonstrates the important contribution crime fiction makes to our understanding of the rich and multiple memory discourses of the Second World War in contemporary France.