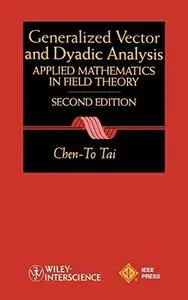 Generalized Vector and Dyadic Analysis: Applied Mathematics in Field Theory, 2nd Ed. (IEEE Press Series on Electromagnetic Wave Theory) By Chen-To Tai
1997 | 209 Pages | ISBN: 0780334132 | PDF | 12 MB
Unmatched in its coverage of the topic, the first edition of GENERALIZED VECTOR AND DYADIC ANALYSIS helped revolutionize the treatment of boundary-value problems, establishing itself as a classic in the field. This expanded, revised edition is the most comprehensive book available on vector analysis founded upon the new method symbolic vector. GENERALIZED VECTOR AND DYADIC ANALYSIS presents a copious list of vector and dyadic identities, along with various forms of Green's theorems with derivations. In addition, this edition presents an historical study of the past mis-understandings and contradictions that have occurred in vector analysis presentations, furthering the reader's understanding of the subject.Sponsored by:IEEE Antennas and Propagation Society.