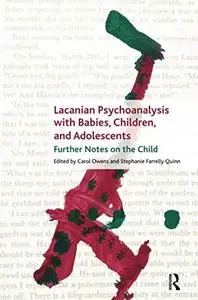 Lacanian Psychoanalysis with Babies, Children, and Adolescents: Further Notes on the Child By Carol Owens (Editor), Stephanie Farrelly Quinn (Editor)
2017 | 306 Pages | ISBN: 1782204490 | PDF | 2 MB
Lacan did not say or write very much about the psychoanalysis of children. There is no doctrine of the psychoanalysis of children in his work. Instead, his 1956-1957 seminar on "the object relation" and his "Note on the Child" of 1969 have been adopted by Lacanian analysts working with children as providing essential coordinates for direction in their clinical work. This book is the result of inviting psychoanalysts of the Lacanian orientation working with children around the globe to theorize and conceptualize that work.The Lacanian psychoanalyst works with the notion of the subject as a "speaking being," but the child subject brings particular exigencies to the psychoanalytic work. Contributors attend to these exigencies in their essays by articulating the precise particularities of the direction of the treatment and psychoanalytic work with children. Contributions consider and explore the effects of new technologies, bio-medicine, and the discourses of global capitalism and neo-liberalism upon the constitution of new child subjectivities and their correlative psychopathologies; inventions and reinventions of the role and function of the "father;" the scope and value of differential diagnosis; the child as "symptom" in and of "the system;" and ultimately, guidelines for a specifically Lacanian direction of the treatment with children.