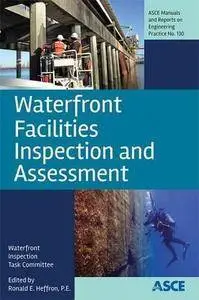 Waterfront Facilities Inspection and Assessment (Manual of Practice 130) By Ronald E. Heffron
2015 | 390 Pages | ISBN: 0784413576 | PDF | 11 MB
Supplies engineers with guidelines and tools for inspecting and evaluating the condition of waterfront structures located in seawater and freshwater environments. Inspections are essential to an effective waterfront facility management program that ensures public safety, reliable service, environmental protection, and reduced maintenance costs. beacause distress to a waterfront structure may not be recognisable from above eater, the inspection must include an assessment of the extent and severity of deterioration from above and ubderwater. This Manual of Practice provides guidance on eight different types of inspection and explains how to match inspection types to project needs. It considers existing waterfront facilities that are constructed of concrete, masonry, metals, composites and wood; facility locations may be near-shore, waterfront, reiverine, or inland. Guidelines are not limited to structure alone, but rather include comprehensive coverage of all aspects of the facility, including fender systems, mechanical and electrical utilities, appurtenant structures, and anchor systems. An extensive appendix addresses special considerations for a variety of specific structure types and systems, such as fixed utilities, equipment, mooring hardware, topside paving and drainage, and safety features.