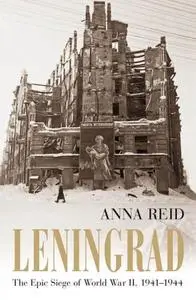 Leningrad: The Epic Siege of World War II, 1941-1944 By Anna Reid
2012 | 512 Pages | ISBN: 080277881X | EPUB | 5 MB
On September 8, 1941, eleven weeks after Hitler's brutal surprise attack on the Soviet Union, Leningrad was surrounded. The German siege was not lifted for two and a half years, by which time some three quarters of a million Leningraders had died of starvation. Stripping away decades of Soviet propaganda, and drawing on newly available diaries and government records, Anna Reid chronicles the Nazis' deliberate decision to starve Leningrad into surrender, the incompetence and cruelty of the Soviet war leadership, the horrors experienced by soldiers on the front lines, and, above all, the ordeal of life in the blockaded city.Leningrad tackles a raft of unanswered questions: Was the size of the death toll as much the fault of Stalin as of Hitler? Why didn't the Germans capture the city? Why didn't it collapse into anarchy? What decided who lived and who died? Impressive in its originality and literary style, Leningrad gives voice to the dead and throws new light on one of the twentieth century's greatest calamities.