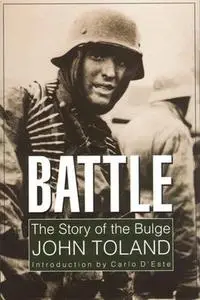 Battle: The Story of the Bulge By John Toland
1999 | 400 Pages | ISBN: 0803294379 | EPUB | 4 MB
"The perspective of 15 years, painstaking research, thousands of interviews, extensive analysis and evaluation, and the creative talent of John Toland [paint] the epic struggle on an immense canvas. . . . Toland writes with the authority of a man who was there. . . . He tastes the bitterness of defeat of those who surrendered and writes as if he had the benefit of the eyes and ears of soldiers and generals on the other side of the line. . . . If you could read only one book to understand generals and GIs and what their different wars were like this is the book."-Chicago Sunday Tribune John Toland has written numerous books on World War II, including Infamy: Pearl Harbor and Its Aftermath. Carlo D'Este is the author of Patton: A Genius for War and other works.