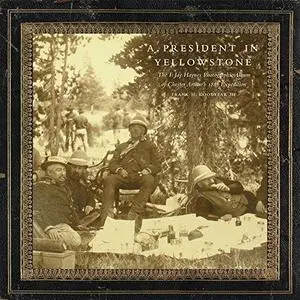 A President in Yellowstone: The F. Jay Haynes Photographic Album of Chester Arthur's 1883 Expedition By Frank H. Goodyear III
2013 | 160 Pages | ISBN: 080614355X | PDF | 24 MB
On the morning of July 30, 1883, President Chester A. Arthur embarked on a trip of historic proportions. His destination was Yellowstone National Park, established by an act of Congress only eleven years earlier. No sitting president had ever traveled this far west. Arthur's host and primary guide would be Philip H. Sheridan, the famed Union general. Also slated to join the expedition was a young photographer, Frank Jay Haynes. This elegant—and fascinating—book showcases Haynes's remarkable photographic album from their six-week journey. A premier nineteenth-century landscape photographer, F. Jay Haynes, as he was known professionally, originally compiled the leather-bound album as a commemorative piece. As only six copies are known to exist, it has rarely been seen. The album's 104 images are accompanied by captions written by General Sheridan's brother, Colonel Michael V. Sheridan, who wrote daily dispatches that were distributed by the Associated Press.In his informative introduction, historian Frank H. Goodyear III provides background about the excursion and explains the historic and aesthetic significance of Haynes's photographs. He then re-creates Arthur's journey by reintroducing Haynes's stunning images—along with Sheridan's original captions—including views of the Tetons and other landmarks; portraits of President Arthur, General Sheridan, and fellow travelers engaged in activities along the route; and images of the Shoshone and Arapaho leaders who gathered to greet the visiting party.Published on the occasion of the reopening of the Haynes Photography Shop in Yellowstone, A President in Yellowstone offers a unique entry into the park's storied past.