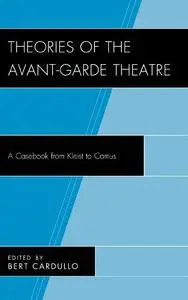 Theories of the Avant-Garde Theatre: A Casebook from Kleist to Camus By Bert Cardullo
2012 | 284 Pages | ISBN: 0810887045 | PDF | 1 MB
In addition to producing lasting works of drama, some of avant-garde theatre's most creative practitioners—directors, playwrights, performers, and designers—also offered profound insights into their art. Their writings, spanning most of the twentieth century and reaching back into the nineteenth, have been gathered together in this uniquely wide-ranging selection.In Theories of the Avant-Garde Theatre: A Casebook from Kleist to Camus, commentary by such seminal figures as Antonin Artaud, André Breton, Alfred Jarry, Luigi Pirandello, August Strindberg, and others are featured here. Their writings illuminate a desire to wrench dramatic art out of all of its old habits and create a new, distinctive, and freestanding theatrical vocabulary. This collection provides direct access to the thinking behind some of the most stimulating performance and playwriting the modernists had to offer, as well as guidelines to the contemporary theatre's current, most adventurous developments.Setting theory beside practice, this collection brings alive a number of vital and continuing concerns, and provides enlightening perspectives on the theatrical history of the late-nineteenth and twentieth centuries. Theories of the Avant-Garde Theatre is not only an essential and versatile handbook for students at all levels but also offers a feast of ideas for anyone interested or engaged in theatre. Representing the twentieth century's radical shift in the aesthetics of theatre and drama, these essays provide a valuable contribution to the literature of the avant-garde and should be of great interest to scholars and theatre lovers alike.