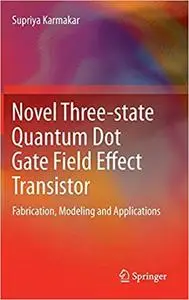 Supriya Karmakar, "Novel Three-state Quantum Dot Gate Field Effect Transistor: Fabrication, Modeling and Applications"
English | ISBN: 8132216342 | 2014 | 134 pages | EPUB, PDF | 4 MB + 6 MB
The book presents the fabrication and circuit modeling of quantum dot gate field effect transistor (QDGFET) and quantum dot gate NMOS inverter (QDNMOS inverter). It also introduces the development of a circuit model of QDGFET based on Berkley Short Channel IGFET model (BSIM). Different ternary logic circuits based on QDGFET are also investigated in this book. Advanced circuit such as three-bit and six bit analog-to-digital converter (ADC) and digital-to-analog converter (DAC) were also simulated.