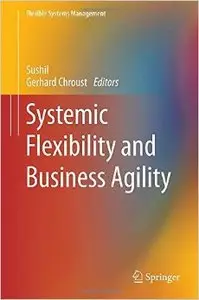 Sushil, Gerhard Chroust, "Systemic Flexibility and Business Agility"
English | 2015 | ISBN-10: 8132221508 | 436 pages | PDF | 9 MB
This book provides a conceptual framework for systemic flexibility and business agility, drawing on a basis of research/case applications in various types of flexibility and agility in business. The selected papers address a variety of issues concerning the theme of systemic flexibility and business agility and are organized into following five parts: (i) Systemic and Strategic Flexibility; (ii) Information and Business Agility; (iii) Flexibility, Innovation and Business Excellence; (iv) Flexibility in Value and Supply Chains; and(v) Financial Flexibility and Mergers & Acquisitions.
Flexibility and agility in business are emerging as key dimensions of business excellence that encompass the requirements of both choice and speed. The two concepts, flexibility and agility, have been used in multiple ways and often interchangeably, both in literature and in practice. The growing need for flexibility/agility in business can be seen from reactive as well as proactive perspectives. A business enterprise is expected to possess reactive flexibility/ agility (as adaptability and responsiveness) in order to cope with the changing and uncertain business environment. It may also endeavor to intentionally generate flexibility/agility as a strategic change in a variety of ways, such as leadership change, reengineering, innovation in products and processes, use of information and communication technology, and learning orientation.