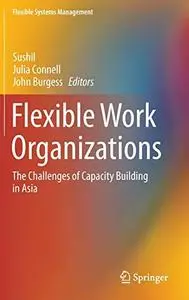 Flexible Work Organizations: The Challenges of Capacity Building in Asia (Flexible Systems Management) by Sushil
English | 7 July 2016 | ISBN: 8132228324 | 320 Pages | PDF | 6.02 MB
This book focuses on the challenges of capacity building for flexible work organizations in Asia, and demonstrates how business enterprises practice reactive flexible capacity (in the form of adaptiveness and responsiveness) to cope with changing and uncertain business environments. The book provides examples of how this can be achieved by means of various organizational change initiatives, leadership strategies, re-engineering, innovation in products and processes, the use of information and communication technology, reshaping learning orientations, and more. As these topics are supported by research and case studies situated in different sectors and countries across Asia, the book will provide a useful resource for a broad readership including: management students and researchers, practicing business managers, consultants, and professional institutions.