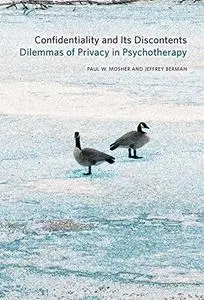 Confidentiality and Its Discontents: Dilemmas of Privacy in Psychotherapy By Paul W. Mosher and Jeffrey Berman
2015 | 360 Pages | ISBN: 0823265102 | PDF | 8 MB
Freud promised his patients absolute confidentiality, regardless of what they revealed, but privacy in psychotherapy began to erode a half-century ago. Psychotherapists now seem to serve as "double agents" with a dual and often conflicting allegiance to patient and society. Some therapists even go so far as to issue Miranda-type warnings, advising patients that what they say in therapy may be used against them. Confidentiality and Its Discontents explores the human stories arising from this loss of confidentiality in psychotherapy. Addressing different types of psychotherapy breaches, Mosher and Berman begin with the the story of novelist Philip Roth, who was horrified when he learned that his psychoanalyst had written a thinly veiled case study about him. Other breaches of privacy occur when the so-called duty to protect compels a therapist to break confidentiality by contacting the police. Every psychotherapist has heard about "Tarasoff," but few know the details of this story of fatal attraction. Nor are most readers familiar with the Jaffee case, which established psychotherapist-patient privilege in the federal courts. Similiarly, the story of Robert Bierenbaum, a New York surgeon who was brought to justice fifteen years after he brutally murdered his wife, reveals how privileged communication became established in a state court. Meanwhile, the story of New York Chief Judge Sol Wachtler, convicted of harassing a former lover and her daughter, shows how the fear of the loss of confidentiality may prevent a person from seeking treatment, with potentially disastrous results. While affirming the importance of the psychotherapist-patient privilege, Confidentiality and Its Discontents focuses on both the inner and outer stories of the characters involved in noteworthy psychotherapy breaches and the ways in which psychiatry and the law can complement but sometimes clash with each other. Jeffrey Berman is Distinguished Teaching Professor of English at the University at Albany. He is the author of several books, including, most recently, Death Education in the Writing Classroom and Dying in Character: Memoirs on the End of Life. He is an honorary member of the American Psychoanalytic Association. Confidentiality and Its Discontents is an enormously engaging book on a very important topic. Who among us is not aware of the incursions into our privacy (invited and uninvited) that characterize modern life? Do any of us experience the privilege of confidentiality, and if so, where? - The Psychoanalytic Review Written by two of the leading individuals in the field, Confidentiality and Its Discontents is a clearly readable and well-argued account of the debates about confidentiality in psychiatry and psychoanalysis. The book is extremely well presented and adds immeasurably to the literature on the topic. - Sander Gilman, Emory University Confidentiality and Its Discontents is an excellent account of confidentiality. It is a must-read for all clinicians, especially those who struggle with this issue as the actors in these stories did. - Journal of the American Psychoanalytic Association Paul Mosher is a psychoanalyst in private practice in Albany, New York, and is a Clinical Professor of Psychiatry at Albany Medical School. He has served as the Chair of the Committee on Confidentiality of the American Psychoanalytic Association.