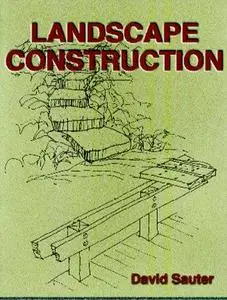 Landscape Construction By David Sauter
1999 | 397 Pages | ISBN: 0827384270 | PDF | 16 MB
Landscape Construction provides detailed instructions for the installation of a majority of landscape elements used today. The text proceeds step-by-step, offering readers a clear, chronological order. First, the construction process is outlined and the pre-construction activities are covered. Then, the steps of site grading, landscape related utility installation building of landscape walls, paving sites, construction of wood improvements, placement of fences and freestanding walls, landscape amenities such as pools, fountains, and site furniture are explained. The text concludes with the installation of plant material and turf areas. Irrigation installation is not included in this text, since that aspect of landscape work has grown into a specialized construction area. ALSO AVAILABLE -- Instructor Supplements: Instructor's Manual (ISBN# 0-8273-8429-7) and Student Workbook Instructor's Manual (ISBN# 0-8273-8430-0). Call Customer Support to Order.