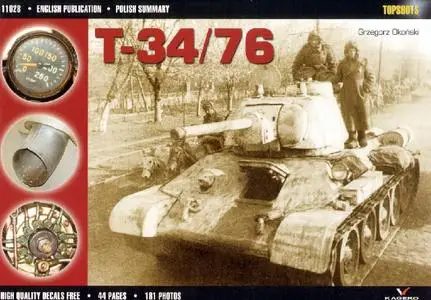 T-34/76 (Kagero Topshots 28)
2006 | ISBN: 8360445168 | English/Polish | 42 Pages | PDF | 54 MB
The origins of the T-34 medium tank date back to 1938, when the USSR State Defence Committee, having analysed experiences from the Spanish Civil War, resolved to construct a successor of the BT-7 'convertible tank' (tracks could be removed and a chain drive to the road wheels engaged, allowing the tank to travel at high speeds on roads). The first prototype, designated A-20, retained the wheel/track configuration of the BT series. It was followed by the second, prototype A-32, in which the wheel/track feature was abandoned. The work on prototypes commenced in early 1940 and from February to May they were extensively tested in the field. The A-32 proved more universal. Its refined version was designated T-34 and accepted for serial production, which started in mid-1940 at the Plant No. 183 in Kharkov.