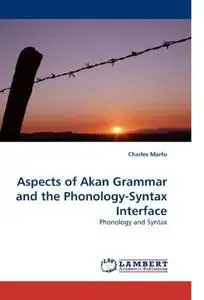 Aspects of Akan Grammar and the Phonology-Syntax Interface: Phonology and Syntax By Charles Marfo
2009 | 160 Pages | ISBN: 3838327918 | PDF | 2 MB
This book discusses aspects of the grammar of Akan, a language spoken in Ghana, and the theoretical aspects of the relationship between phonology and syntax. Particularly, some constructions are explored in the perspective of the phonology-syntax interface. The existence of phrasal or post-lexical rules has stimulated research in the phonology-syntax interface. In this regard, linguists are faced with some theoretical questions. One of them is with respect to how the phonology-syntax interface should be conceived; through Direct Reference or Indirect Reference? It is advanced in this book that the phonology may make reference to the syntax, but only remotely through the prosodic structure of the phonological component of the grammar (e.g. Zec and Inkelas 1990). Syntactic analysis of some of the constructions explored are done in the framework of Lexical-Functional Grammar (e.g. Bresnan 2001). It is claimed that the prosodic structure primarily relates to the constituent structure of Lexical-Functional Grammar through a proposed mapping algorithm, the Compositional Mapping Theory. This is in order to adequately explain the phrasal rules occurring in the explored Akan constructions.