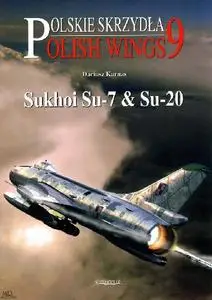 Sukhoi Su-7 & Su-20 (Polish Wings 9)
2009 | ISBN: 8389450968 | English | 58 Pages | PDF | 37,4 MB
The Polish Air Force was a major user of Sukhoi's heavyweight fighter-bombers for more than 30 years. Starting with delivery of the Su-7BM in 1964, with the –BKL variant following from 1966 and eight 2-seat Su-7Us from 1969, the Poles then operated the swing-wing Su-20 from 1974 to 1997. This new volume in the Polish Wings series describes and illustrates all these Polish Sukhois, with full details of all the airframes and their fates, detailed description of color schemes and markings, as well as many color photos and color profiles. This book is an invaluable reference source for aircraft historians and enthusiasts, and scale modelers.