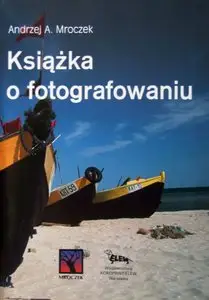 Andrzej A. Mroczek - Książka o fotografowaniu
Koroprint-Elew | Polish | 2002 | ISBN: 8391037061, 8391707903 | 167 pages | PDF scan | 76.5 MB
Książka, ta powstała z myślą o wszystkich tych, których fascynuje możliwość utrwalania ulotnej rzeczywistości za pomocą aparatu fotograficznego. Nie jest to jednak suchy podręcznik, naszpikowany fachowymi terminami i skupiający się wyłącznie na technicznych aspektach robienia zdjęą. To pasjonujący, a zarazem rzeczowy wywód dotyczący sztuki fotografowania, a więc nadawania sensu powstającym obrazom, komponowania ich tak, by niosły ze sobą jakieś przesłanie, wywoływały emocje.
Takie spojrzenie na istotę działań artysty-fotografika oraz fotoamatora szczególnie cenne staje się dziś, w dobie powszechnej dostępności aparatów cyfrowych i zalewającej nas powodzi nijakich zdjęą.
Wśród licznych amatorów fotografii nazwisko autora &#8222Książki o fotografowaniu&#8221 jest obietnicą najlepszej literatury fachowej. Kolejne, trzecie wydanie tej pozycji to nie lada gratka dla wszystkich tych, którzy dostrzegają różnicę pomiędzy zwykłym &#8222trzaskaniem fotek&#8221, a prawdziwą sztuką fotografowania. Bez względu na poziom Twojego zaawansowania znajdziesz tu porady dotyczące wszystkich kluczowych aspektów powstawania obrazu &#8212 od wyboru odpowiedniego aparatu po zasady kompozycji, fotografii krajobrazów, ludzi , architektury i wnętrz. Książka ta będzie dla Ciebie przede wszystkim źródłem twórczej inspiracji oraz idei, które stoją za każdym doskonale wykonanym zdjęciem!