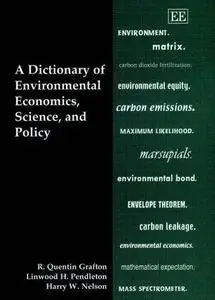 A Dictionary of Environmental Economics, Science, and Policy By R. Quentin Grafton, Linwood H. Pendleton, Harry W. Nelson
2001 | 362 Pages | ISBN: 1840641266 | PDF | 14 MB
This comprehensive new dictionary is an important reference tool for all those interested in environmental science and environmental studies. Written in a clear and accessible style, the dictionary includes over 3000 up-to-date entries, all accompanied by a detailed yet straightforward definition covering all aspects of the subject. The book also includes three primers, which will bridge the gap between each discipline covered. These consist of introductions to environmental economics, international environmental problems and environmental systems, dynamics and modelling. Another feature is the inclusion of an appendix which lists and describes the world's major international environmental agreements. This "Dictionary" with its primers and appendices should prove useful to all students and scholars of environmental science and studies.