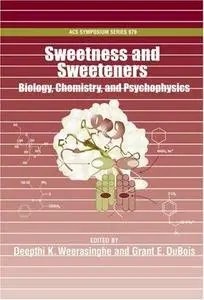 Sweetness and Sweeteners. Biology, Chemistry, and Psychophysics By Deepthi K. Weerasinghe and Grant E. DuBois (Eds.)
2008 | 653 Pages | ISBN: 0841274320 | PDF | 62 MB
Content: Sweetness and sweeteners: what is all the excitement about? / Grant E. DuBois -- Genetic architecture of sweet taste / Alexander A. Bachmanov -- Making sense of the sweet taste receptor / Peihua Jiang ... [et al.] -- T1R2, T1R3, and the detection of sweet stimuli / Stephan Vigues ... [et al.] -- In vitro models to study taste: can sweetness be modeled in a dish? / Nancy E. Rawson and M. Hakan Ozdener -- Structure-activity relationship and AH-B after 40 years / Terry E. Acree and Michael Lindley -- Crystal structures of the sweet protein MNEI: insights into sweet protein-receptor interactions / Jeanette R. Hobbs, Steven D. Munger, and Graeme L. Conn -- Molecular models of sweet taste receptors provide insights into function / Meng Cui ... [et al.] -- Pharmacophore modeling of sweet and bitter tasting molecules / Nicolas Froloff -- Multiple receptors or multiple sites? Modeling the human T1R2-T1R3 sweet taste receptor / Gabriella Morini, Angela Bassoli, and Piero A. Temussi -- Computational docking to sweet taste receptor models / D. Eric Walters -- What can psychophysical studies with sweetness inhibitors teach us about taste? / Veronica Galindo-Cuspinera and Paul A.S. Breslin -- A method to measure taste qualities, taste intensity, and temporal profile of compounds aimed at human consumption by taste nerve recordings in monkeys / Göran Hellekant and Yiwen Wang -- The bittersweet search for bitter-sweet interactions: cell to cell communication in the taste bud / M. Scott Herness, Fang-li Zhao, and Yu Cao -- cAMP: a role in sweet taste adaptation / Nirupa Chaudhari and Sue C. Kinnamon -- Saccharin: artificial sweetener, bitter tastant, and sweet taste inhibitor / Marcel Winnig ... [et al.] -- Permeation of amphipathic sweeteners into taste-bud cells and their interactions with post-receptor signaling components: possible implications for sweet-taste quality / M. Naim ... [et al.] -- We are what we eat, but why? Relationships between oral sensation, genetics, pathology, and diet / Derek J. Snyder ... [et al.] -- Perception and acceptance of sweeteners / Jeannine F. Delwiche and Amanda R. Warnock -- Interindividual differences of taste sensitivity in humans and hamsters: multiple receptor sites for single organic molecules / Annick Faurion -- The "bitter sweet" truth of artificial sweeteners / C.T. Simons ... [et al.] -- The use of rodent models to link neurobiological processes with the psychophysics of sweet taste / A.C. Spector, S. Eylam, and C.D. Dotson -- Functional characterization of the human sweet taste receptor: high- throughput screening assay development and structural function relation -- Xiaodong Li and Guy Servant -- Development of transient receptor potential melanostation 5 modulators for sweetness enhancement / R.W. Bryant ... [et al.] -- Enhancers for sweet taste from the world of non-volatiles: polyphenols as taste modifiers / Jakob P. Ley ... [et al.] -- Evaluation of high-intensity sweetener modulators / Cheryl R. Mitchell, Richard Ray, and Marian Schwartz -- Improving the taste of artificial sweeteners using flavors / Masashi Ishikawa ... [et al.] -- Why should on organic chemist study sweet taste? / Angela Bassoli ... [et al.] -- Sweeteners and sweetness modulators: requirements for commercial viability / Grant E. DuBois -- Development of new, low calorie sweetener: new aspartame derivative / Yusuke Amino ... [et al.] -- Challenges to reducing sugar in foods / D. Kilcast, C. den Ridder, and C. Narain -- Development of a new, no calorie commercial sweetener neotame / Indra Prakash and Ihab E. Bishay -- Sensory properties of neotame: comparison with other sweeteners / Susan S. Schiffman, Elizabeth A. Sattely-Miller, and Ihab E. Bishay -- Recent developments in structure-taste studies of sulfamates / William J. Spillane ... [et al.] -- Neoculin as a new protein with taste-modifying activity: purification, characterization, and X-ray crystallography / A. Shimizu-Ibuka ... [et al.] -- How sweet it is: detailed molecular and functional studies of brazzein, a sweet protein and its analogs / Fariba Assadi-Porter ... [et al.] -- Steviol glucuronide as excretion product of stevioside in human volunteers: lack of carcinogenic properties of steviol glycosides and steviol / Jan M.C. Geuns -- Stevioside: a safe sweetener and possible new drug for the treatment of the metabolic syndrome / Jan M.C. Geuns.