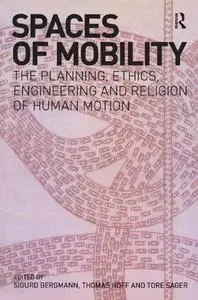 Spaces of Mobility: Essays on the Planning, Ethics, Engineering and Religion of Human Motion By Sigurd Bergmann, Thomas A. Hoff, Tore Sager
2014 | 320 Pages | ISBN: 1845533399 | PDF | 2 MB
Human mobility is dramatically on the rise; globalization and modern technology have increased transportation and migration. Frequent journeys over large distances cause huge energy consumption, severely impact local and global natural environments and raise spiritual and ethical questions about our place in the world. 'Spaces of Mobility' presents an analysis of the socio-political, environmental, and ethical aspects of mobility. The volume brings together essays that examine why and how modern modes of transport emerge, considering their effect on society. The religious significance of contemporary travel is outlined, namely its impact on pilgrimage, Christology and ethics. The essays examine the interaction between humans and their surroundings and question how increased mobility affects human identity and self-understanding. 'Spaces of Mobility' will be of interest to students and scholars seeking to understand the impact of mobility on modern culture and society, the ethics behind contemporary transport systems and the conditions of immigrants in a world of constant travel.