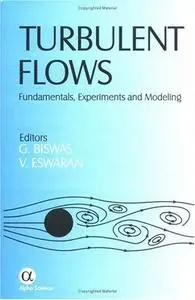 Turbulent Flows: Fundamentals, Experiments and Modeling By G. Biswas, V. Eswaran
2002 | 456 Pages | ISBN: 0849310148 | PDF | 21 MB
This book allows readers to tackle the challenges of turbulent flow problems with confidence. It covers the fundamentals of turbulence, various modeling approaches, and experimental studies. The fundamentals section includes isotropic turbulence and anistropic turbulence, turbulent flow dynamics, free shear layers, turbulent boundary layers and plumes. The modeling section focuses on topics such as eddy viscosity models, standard K-E Models, Direct Numerical Stimulation, Large Eddy Simulation, and their applications. The measurement of turbulent fluctuations experiments in isothermal and stratified turbulent flows are explored in the experimental methods section. Special topics include modeling of near wall turbulent flows, compressible turbulent flows, and more.