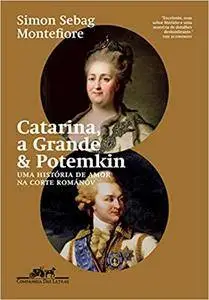 Catarina, a Grande e Potemkin. Uma História de Amor na Corte Románov by Simon Sebag Montefiore
Portuguese Brazilian | 2000 | ISBN: 8535931015 | 840 pages | EPUB | 5.03 MB
Do autor dos bestsellers Jerusalém, Stálin e Os Románov, a história de amor entre uma das maiores imperatrizes de todos os tempos e um oficial de seu exército.
Uma das maiores monarcas de todos os tempos, Catarina, a Grande nasceu na Alemanha e se casou com o sucessor do trono russo, pertencente à famosa dinastia Románov. Uma vez viúva, ela assumiu o trono e governou por décadas até sua morte. Conhecida como uma déspota esclarecida, ficou famosa por governar com firmeza, porém implementando medidas progressistas. Além disso, também é renomada por seus numerosos amantes, entre eles o chefe militar Potemkin.
Neste relato vívido, o aclamado autor Simon Sebag Montefiore reconstrói a parceria política mais bemsucedida da história — tão sensual e ardente quanto criativa e visionária — ao tratar do relacionamento de Catarina, a Grande e Potemkin. Com base nas cartas do casal e em vasta pesquisa, Montefiore revela detalhes de duas vidas cuja história se confunde com a história do próprio Império Russo.
"Um dos maiores casos de amor da história. Excelente, com sabor literário e uma maestria de detalhes deslumbrante." — The Economist.
Sobre o Autor:
Simon Sebag Montefiore nasceu em Londres, em 1965. Escritor e jornalista, atualmente é membro da Royal Society of Literature e professor visitante da Universidade de Buckingham. Entre outros livros, é autor de Jerusalém: A biografia, O jovem Stálin, Stálin: A corte do czar vermelho, que ganhou o British Book Awards de melhor livro de história de 2004, e Os Románov.