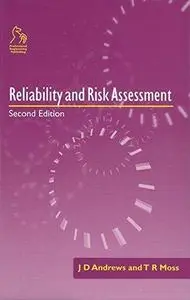 Reliabilty and Risk Assessment By J. D. Andrews
2000 | 567 Pages | ISBN: 1860582907 | PDF | 5 MB
Risk assessment and risk analysis are now firmly fixed in the engineer's lexicon. Every engineering project, contract, piece of equipment and design requires this discipline by law. Reliability is the other key element in the mix for smooth running engineering projects and operations. In the modern industrial era, economic factors have resulted in the construction and operation of larger and more complex process plant. Accidents at these types of plants have led to notorious incidents such as Flixborough, Bhopal, Chernobyl, and Piper Alpha. Engineers are working to maximize the benefits of modern processing technology while reducing the safety risks to acceptable levels. However, each processing plant has unique problems and each must be individually assessed to identify, evaluate, and control associated hazards. The first edition of "Reliability and Risk Assessment" was ahead of its time. The world has caught up with Andrews and Moss and this fully revised second edition takes the analysis further and brings a more practical slant with greater and extensive use of case studies. "Reliability and Risk Assessment" is for professional engineers but will also prove invaluable for postgraduate students involved in reliability and risk assessment research. This title includes key features such as: rigourous mathmatical descriptions of the most important techniques, particularly fault tree analysis and Markov methods; practical examples of the application of these techniques to real life problems; self contained chapters detail methods of reliability and risk assessment; worked examples which clarify the text and highlight salient points; and three new detailed case studies which include - FMECA for a gas turbine system; in service inspection of structural components, and a business interruption risk analysis.