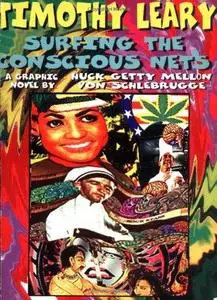 Surfing the Conscious Nets: A Graphic Novel by Huck Getty Mellon Von Schlebrugge By Timothy Francis Leary, Robert Williams
1995 | 121 Pages | ISBN: 0867194103 | PDF | 20 MB
Graphic novel designed as a Q&A chatroom session with Dr Leary, where readers travel the electronic maze of cyborgiastic addiction and the search for the absolute aphrodisiac. Topics include "My Lonely Quest for the Male Afrodisiac," "Mengele Lives! Medical Evil!," and other rants. Graphic and paintings by Robert Williams.