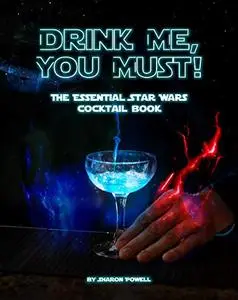 Sharon Powell, "Drink Me, You Must!: The Essential Star Wars Cocktail Book"
English | 2020 | ASIN: B08GQ55MNV | 65 pages | EPUB | 2.4 MB
It is too bad that Luke Skywalker was a little too young to fully indulge in the intoxicating delights at the Mos Eisley Cantina. This May the Fourth, you can dress up as your favourite Jedi and sample all these delicious cocktails!
The unofficial Star Wars holiday is the perfect excuse to break out your Yoda ears, decorate your house like the swampy Dagobah, and serve witty drinks to your fellow Jedi. Revenge of the Fifth (May 5th) can be a day full of your favourite Dark Side themes such as the Death Star cocktail or Darth Maul Cider!
The popularity of this movie franchise is evident in the number of memes and references, you can find on the internet, which also provides plenty of ideas to get your Midichlorians flowing!
If you are really committed, you can join the Jedi population in the UK, who have officially declared their religion as Jedi on the census in England and Wales.