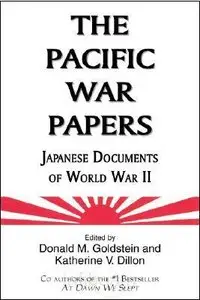 The Pacific War Papers: Japanese Documents of World War II By Donald M. Goldstein, Katherine V. Dillon
Publisher: Potomac Books Inc. 2005-03-31 | 336 Pages | ISBN: 1574886320 | PDF | 2.9 MB
The Pacific War Papers is an annotated collection of extremely rare Japanese primary-source documents, translated into English, that provides an invaluable resource for historians and students of World War II. These naval and diplomatic documents come from the collection of the late Gordon Prange, the eminent scholar of Pearl Harbor, who obtained them from Japanese naval leaders while working for the Military History Section of the American forces that occupied Japan. Donald M. Goldstein and Katherine V. Dillon have assembled this collection so that these important documents are not lost to history. The editors also provide expert commentary to introduce and explain the importance of the materials. This book forms the companion volume to The Pearl Harbor Papers: Inside the Japanese Plans, which Goldstein and Dillon also edited. Most of the documents published here are not available anywhere else, with many translated for the first time.
This edited collection covers three main topics: the Japanese navy before World War II, prewar diplomacy and politics, and Japanese naval operations and policy during the war. The documents include diary extracts and candid, short monographs written by high-ranking Japanese officers immediately after the war. They shed new light on the vast naval buildup before the war, the development of the navy's operational concepts for war with the United States, the organization and tactics of aircraft carrier forces, and the failure of Japanese submarine operations. No World War II library will be complete without this important volume.

DoWnLoAd FiLe
mirror
mirror
>>:: NO PASSWORD ::<<
>>::..::!!!NO MIRRORS!!!::..::<<