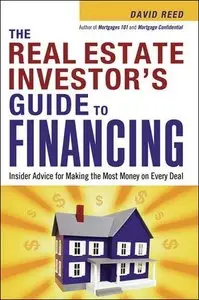 The Real Estate Investor's Guide to Financing: Insider Advice for Making the Most Money on Every Deal By David Reed
Publisher: AMACOM 2008-03-05 | 240 Pages | ISBN: 0814480616 | PDF | 1.5 MB
To get the biggest return, real estate investors need the right financing. And as they buy multiple properties, their debt to equity rises, making it more difficult to get the kind of deal they need. As many investors have learned the hard way, getting the wrong financing can wipe out their profits, hold them back from selling because of a lack of equity, or force them to try to sell for more than the market will bear. The Real Estate Investor's Guide to Financing is the one book that shows readers how to get the right financial package for the biggest return on their investment. As a respected author and mort­gage banker, David Reed has spent more than 20 years helping investors finance their properties. Here, he offers advice on such crucial topics as: financing options for different property types * the finan­cial implications of renting vs. flipping * setting rental rates * the challenges and benefits of being a landlord, including rent loss coverage * the pros and cons of hav­ing partners * tips on financing a second home, duplex, multi-family unit, or condo Complete with essential advice on financing and a glossary of investment terms, this is the one guide that will help readers start making real money.

DoWnLoAd FiLe
mirror
mi...yle="color:#000000">ror
mirror
mirror
>>:: NO PASSWORD ::<<
>>::..::!!!NO MIRRORS!!!::..::<<