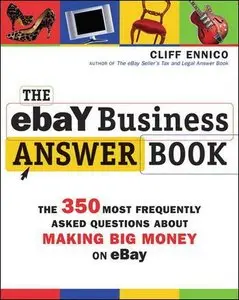 The eBay Business Answer Book: The 350 Most Frequently Asked Questions About Making Big Money on eBay by Cliff Ennico
Publisher: AMACOM (May 23, 2008) | 304 pages | ISBN: 0814400450 | PDF | 1.2 MB
Each day, more and more eBay sellers become increasingly serious about their enterpreneurial efforts. Whether they see their eBay business as a modest addition to their revenue or a potentially full-time venture, they need expert advice on how to do it right. In The eBay Business Answer Book, popular eBay University instructor Cliff Ennico provides readers with much-needed guidance in response to their most commonly asked questions, including:
What are the things I have to do–both online and offline–to start selling professionally on eBay? * Where do I find inventory? * Should I set up an eBay store? * My winning bidder won't pay me–what do I do now? * When do I charge taxes–and when do I pay them? * How should I keep track of all my eBay busi­ness records? * What do I need to know about dealing with international buyers? Filled with in-depth, easily understood answers to real questions readers can flip to as-needed, this is a one-of-a-kind resource for any eBay seller.

DoWnLoAd FiLe
mirror
mi...yle="color:#000000">ror
mirror
mirror
>>:: NO PASSWORD ::<<
>>::..::!!!NO MIRRORS!!!::..::<<