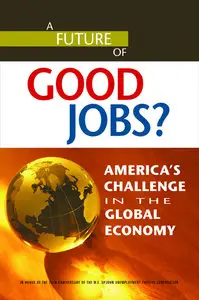 A Future of Good Jobs?: America's Challenge in the Global Economy By Timothy J. Bartik, Susan N. Houseman
Publisher: W. E. Upjohn Institute 2008-04-08 | 327 Pages | ISBN: 0880993324 | PDF | 4.2 MB
Can the U.S. economy generate healthy growth of good jobs – jobs that will ensure a steady improvement in the standard of living for the middle class and that will offer a way out of poverty for low-income Americans? In this timely new volume, leading policy analysts examine the challenges facing U.S. labor market policy and propose concrete steps to make American workers and employers more competitive in a global economy.

DoWnLoAd FiLe
mirror
mirror
mirror
>>:: NO PASSWORD ::<<
>>::..::!!!NO MIRRORS!!!::..::<<