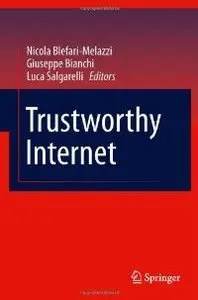 Trustworthy Internet
Springer; 1st Edition | June 21, 2011 | ISBN-10: 884701817X | 387 pages | PDF | 4.2 Mb
This book collects a selection of the papers presented at the 21st International Tyrrhenian Workshop on Digital Communications, organized by CNIT and dedicated this year to the theme "Trustworthy Internet". The workshop provided a lively discussion on the challenges involved in reshaping the Internet into a trustworthy reality, articulated around the Internet by and for People, the Internet of Contents, the Internet of Services and the Internet of Things, supported by the Network Infrastructure foundation. The papers have been revised after the workshop to take account of feedbacks received by the audience. The book also includes: i) an introduction by the Editors, setting the scene and presenting evolution scenarios; ii) five papers written by the session chairmen, reputed scientists, and each dedicated to a facet of the trustworthy Internet vision; iii) a concluding paper, reporting the outcomes of a panel held at the conclusion of the workshop, written by the two keynote speakers.