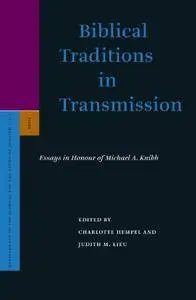 Biblical Traditions in Transmission: Essays in Honour of Michael A. Knibb (Supplements to the Journal for the Study of Judaism) by Charlotte Hempel
English | 2006 | ISBN: 9004139974 | 393 Pages | PDF | 1.53 MB
This collection comprises eighteen papers by friends, colleagues and students of Michal A. Knibb on the theme of the transmission of biblical traditions in a variety of contexts. In the main the articles deal with the transmission of biblical traditions in the versions, the pseudepigrapha, at Qumran, and in early Christian writings. The collection as a whole clearly demonstrates the way in which biblical traditions were shaped and re-shaped creatively in the biblical, early Jewish and Christian literature.