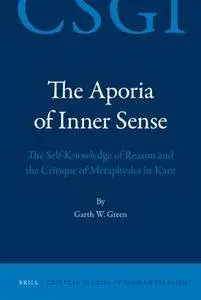 The Aporia of Inner Sense: The Self-Knowledge of Reason and the Critique of Metaphysics in Kant (Critical Studies in German Idealism, Book 3) by Garth W. Green
English | 2010 | ISBN: 9004182705, 9004215573 | 352 pages | PDF | 5,2 MB
This work - the first full-length account of its theme in English - identifies Kants doctrine of inner sense as a central, and problematic, element within the architectonic of pure reason of the first Critique. Its exegesis exposes two, variant construals of the character and capacities of inner sense: the first, positive construal functions in Kants account of the nature of knowledge in the Transcendental Analytic, while the second, negative construal functions in Kants account of the limits of knowledge in the Transcendental Dialectic. Green shows how this variance underlies, and destabilizes, the basic intention of Kants theoretical philosophy, to give an account of both the nature, and the limits, of cognition. The work complements detailed analysis with an exhaustive review of English, French, and German scholarship on the doctrine. An Appendix on Kants recently discovered Vom inneren Sinne fragment evinces Kants continued concern with this doctrine, and a Conclusion intimates the importance of Fichtes and Schellings identification of the aporia of inner sense to the subsequent development of transcendental idealism.
My nickname -
interes