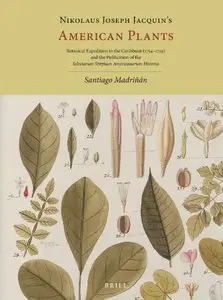 Nikolaus Joseph Jacquin's American Plants: Botanical Expedition to the Caribbean (1754-1759) and the Publication of the Selectarum Stirpium Americanarum Historia by Santiago Madriñán
English | 2013 | ISBN: 9004234101 | ISBN-13: 9789004234109 | 440 pages | PDF | 242 MB
Nikolaus Joseph Jacquin's American Plants offers a detailed account of the Austrian botanical expedition to the Caribbean that took place between 1754 and 1759, culminating in the publication of the Selectarum stirpium americanarum historia (1763) by the famous Dutch-born scientist, the first Linnaean botanist in the New World. Novel findings about Jacquin's family and early life are given.
Through a careful reading of Jacquin's own publications, letters and manuscripts, Santiago Madriñán provides, from a botanist's perspective, a meticulous description of the places visited by Jacquin and the plants he collected. The splendid color illustrations of the plants published in the luxury second edition of the Selectarum in 1780 are here reprinted, together with an annotated list of the species described.