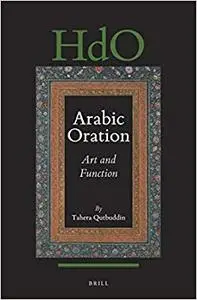 Tahera Qutbuddin, "Arabic Oration: Art and Function"
English, Arabic | 2019 | ISBN: 9004394400 | PDF | pages: 660 | 6.4 mb
In Arabic Oration: Art and Function, a narrative richly infused with illustrative texts and original translations, Tahera Qutbuddin presents a comprehensive theory of this preeminent genre in its foundational oral period, 7th-8th centuries AD. With speeches and sermons attributed to the Prophet Muḥammad, ʿAlī, other political and military leaders, and a number of prominent women, she assesses types of orations and themes, preservation and provenance, structure and style, orator-audience authority dynamics, and, with the shift from an oral to a highly literate culture, oration's influence on the medieval chancery epistle. Probing the genre's echoes in the contemporary Muslim world, she offers sensitive tools with which to decode speeches by mosque-imams and political leaders today.