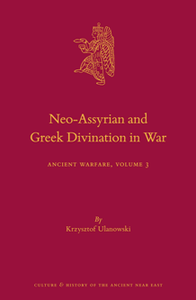 Neo-Assyrian and Greek Divination in War : Ancient Warfare, Volume 3
by Krzysztof Ulanowski
English | 2021 | ISBN: 9004429387 | 589 Pages | True PDF | 4.19 MB
Neo-Assyrian and Greek Divination in War is about practices which enabled humans contact the divine. These relations, especially in difficult times of military conflict, could be crucial in deciding the fate of individuals, cities, dynasties or even empires.
Krzysztof Ulanowski, Ph.D. (2001) University of M. Curie-Sklodowskiej, is Assistant Professor at The Gdansk University. He has published monographs and many articles about divination, religion and civilization of the ancient Near East and Greece, including The Religious Aspects of War in the Ancient Near East, Greece, and Rome (ed.) (Brill, 2016).