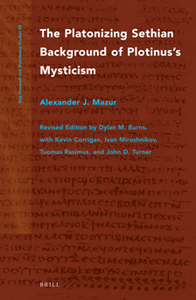 The Platonizing Sethian Background of Plotinus's Mysticism, Revised Edition
by Alexander J. Mazur, Dylan M. Burns
English | 2021 | ISBN: 9004441670 | 356 Pages | PDF | 3.23 MB
The present monograph is a revision of Dr. Alexander J. 'Zeke' Mazur's 2010 doctoral dissertation, a pioneering work in the study of Plotinus and his relationship with Gnosticism, particularly with reference to the Coptic Gnostic works discovered near Nag Hammadi, Egypt, ca. December 1945.
The relationship between Gnosticism and later Platonism, and in particular the thought of Plotinus and Porphyry, is one of the most exciting and promising trajectories of research today for scholars of later Greek philosophy, ancient Christianity, and Coptology alike.
In The Platonizing Sethian Background of Plotinus's Mysticism, Zeke Mazur offers a radical reconceptualization of Plotinus with reference to Gnostic thought and praxis, chiefly as evidenced by Coptic works among the Nag Hammadi Codices whose Greek Vorlagen were read in Plotinus's school.
If you want to support my blog, then you can buy a premium account through any of my files (i.e. on the download page of my book). In this case, I get a percent of sale and can continue to delight you with new books!