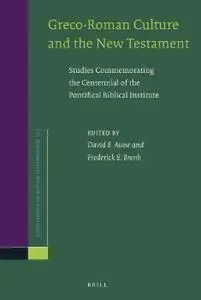 Greco-Roman Culture and the New Testament: Studies Commemorating the Centennial of the Pontifical Biblical Institute by David Edward Aune
English | 1 Mar. 2012 | ISBN: 9004226311 | 233 Pages | PDF | 3.54 MB
Since a number of scholars at the Pontifical Biblical Institute have made important contributions to the study of the New Testament in the context of the Greco-Roman world, it seemed appropriate to devote this volume commemorating the centennial of the Biblicum (1909-2009) to that subject. This book contains nine essays by scholars from Europe, the United States, Australia and Jerusalem, each exploring the ways in which aspects of the New Testament can be illuminated by recourse to Greco-Roman texts.