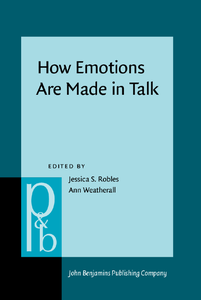 How Emotions Are Made in Talk
by Jessica S. Robles;Ann Weatherall;
English | 2021 | ISBN: 9027208522 | 312 pages | True PDF | 28.46 MB
How Emotions Are Made in Talk brings together an exciting collection of cutting-edge interactional research examining emotions and affectivity as social actions. The international selection of scholars draw on ethnomethodology and conversation analysis applied to a range of settings including sports, workplaces, telephone calls, classrooms, friends and healthcare. The aim of the book is to provide new insights into how emotions are produced as social actions in relation to, for example, encouragement, responsibility, crying, objects, empathy, joy, surprise, touch, and pain. This volume should be of interest to interactional scholars and researchers interested in social approaches to emotion, and addresses a range of scholarship across the disciplines of sociology, communication, psychology, linguistics, and anthropology.