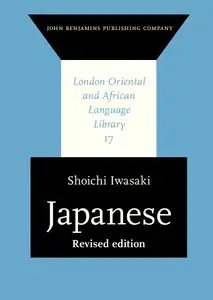 Shoichi Iwasaki, "Japanese, 2 edition"
English | ISBN: 9027238189, 9027238170 | 2013 | 405 pages | PDF | 4 MB
Japanese ranks as the ninth most widely spoken language of the world with more than 127 million speakers in the island state of Japan. Its genetic relation has been a topic of heated discussion, but Altaic and Austronesian languages appear to have contributed to the early formation of this language. Japanese has a long written tradition, which goes back to texts from the eighth century CE. The modern writing system employs a mixture of Chinese characters and two sets of syllabary indigenously developed based on the Chinese characters.
This book consists of sixteen chapters covering the phonology, morphology, writing system, tense and aspect systems, basic argument structure, grammatical constructions, and discourse and pragmatic phenomena of Japanese. It provides researchers with a useful typological reference and students of Japanese with a theory-neutral introduction to current linguistic research issues.