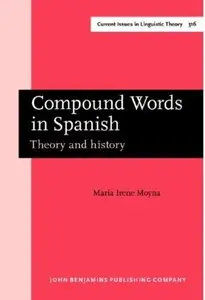 Compound Words in Spanish: Theory and history (Current Issues in Linguistic Theory) by María Irene Moyna
English, Español | 2011-07-12 | ISBN: 9027248346 | PDF | 476 pages | 24 MB
This is the first book devoted entirely to the history of compound words in Spanish. Based on data obtained from Spanish dictionaries and databases of the past thousand years, it documents the evolution of the major compounding patterns of the language. It analyzes the structural, semantic, and orthographic features of each compound type, and also provides a description of its Latin antecedents, early attestations, and relative frequency and productivity over the centuries. The combination of qualitative and quantitative data shows that although most compound types have survived, they have undergone changes in word order and relative frequency. Moreover, the book shows that the evolution of compounding in Spanish may be accounted for by processes of language acquisition in children. This book, which includes all the data in chronological and alphabetical order, will be a valuable resource for morphologists, Romance linguists, and historical linguists more generally.
My nickname -
interes