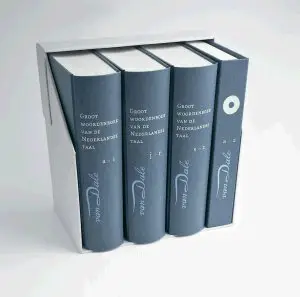 Van Dale grote woordenboeken versie 6.0
Publisher: Van Dale Uitgevers | Dutch | 2010 | ISBN-10: 9066483873 | different pages pro book | E-pub | 54,2 mb
Dutch Dictionary
1. groot woordenboek hedendaags Nederlands
2. groot woordenboek Nederlands-Engels
3. groot woordenboek Engels-Nederlands
4. groot woordenboek Nederlands-Frans
5. groot woordenboek Frans-Nederlands
6. groot woordenboek Nederlands-Duits
7. groot woordenboek Duits-Nederlands
Gebruik de zoekfunctie van je e-boek om tekst in het woordenboek te zoeken. Om meteen naar een trefwoord te springen zoek je op 'q'+trefwoord. Voorbeeld: zoeken op 'goed' levert veel resultaten op. Zoeken op 'qgoed' toont daarentegen meteen de definitie van 'goed'.
Sommige e-boeklezers kunnen sommige karakters niet tonen en tonen dan een '?'. Dit zou je kunnen oplossen door een nieuw epub-bestand te maken met daarin de voor jouw lezer benodigde lettertypen.
Sommige e-boeklezers hebben speciale woordenboek-functionaliteit. Voor epub is er echter (nog) geen standaard woordenboekenformaat, dus zal je het moeten doen met de zoekfunctie. Of probeer het epub-bestand om te zetten naar een voor jouw lezer geschikt formaat.
You can download the 7 ebooks one by one. Than you get a epub file which you can read directly on your e-reader.
You also can download the 7 ebooks all together, than you get a zip file. You have less waitingtime to download, but you can't read directly. You have to unzip first.