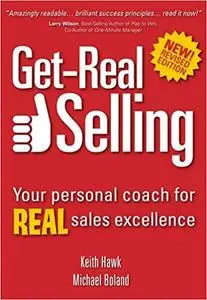 Keith Hawk, Michael Boland, "Get-Real Selling: Your Personal Coach for REAL Sales Excellence"
ISBN: 9077256326 | 2010 | EPUB | 144 pages | 2 MB
The short, pithy chapters of this book distinguish Real Selling from Not-Real Selling. Real Selling says, "My success follows my customer's success." Using a consultative approach, salespeople succeed when they improve the customer's Service to his own customers, his customer's Economics - profit and efficiency, for instance - and Life, the degree of ease and success the customer gains by using the seller's product or service. Working in this way, salespeople will improve their own success rates and feel greater satisfaction. From philosophical to extremely practical, the advice and tips in this book will make any salesperson more effective and more fulfilled every day.