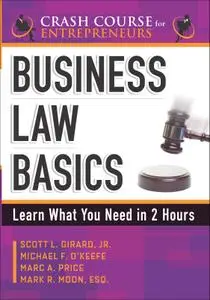 Business Law Basics: Learn What You Need in 2 Hours by Scott L. Girard, Michael F. O'Keefe, Marc A. Price
English | ISBN: 9077256393 | 2014 | EPUB | 192 pages | 2 MB
When you start a business, legal issues can seem complex, even scary. This simple guide helps you ask smart questions and get the right advice. Find out what practices will help you keep your legal matters clear and simple! You will learn key concepts and terms, how to choose an attorney, contract essentials, and what you need to protect (such as processes or intellectual property). Plus the basics of partnership and corporate structures, license and regulation essentials, employment issues, legal aspects of buying and selling, common pitfalls, international business issues—and more. Each of the books in the Crash Course for Entrepreneurs series offers a high-level overview of the critical things you need to know and do if you want to survive and thrive in our super-competitive world. Of course, there's much more to learn about each topic, but what you'll read here will give you the framework for learning the rest.
My nickname -
interes