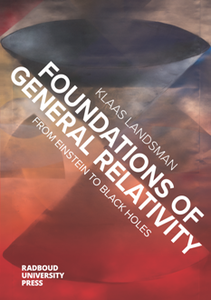 Foundations of General Relativity : From Einstein to Black Holes
by Klaas Landsman
English | 2021 | ISBN: 9083178927 | 394 Pages | True PDF | 23 MB
This book, dedicated to Roger Penrose, is a second, mathematically oriented course in general relativity. It contains extensive references and occasional excursions in the history and philosophy of gravity, including a relatively lengthy historical introduction. The book is intended for all students of general relativity of any age and orientation who have a background including at least first courses in special and general relativity, differential geometry, and topology. The material is developed in such a way that through the last two chapters the reader may acquire a taste of the modern mathematical study of black holes initiated by Penrose, Hawking, and others, as further influenced by the initial-value or PDE approach to general relativity. Successful readers might be able to begin reading research papers on black holes, especially in mathematical physics and in the philosophy of physics.
If you want to support my blog, then you can buy a premium account through any of my files (i.e. on the download page of my book). In this case, I get a percent of sale and can continue to delight you with new books!