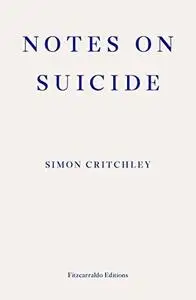 Notes on Suicide By Simon Critchley
2001 | 53 Pages | ISBN: 1910695068 | PDF | 7 MB
This book is not a suicide note. Ten days after Edouard Leve handed in the manuscript of Suicide to his publisher in 2007, he hanged himself in his apartment. He was 42. Two years after Jean Amery's On Suicide was published in 1976, the author took an overdose of sleeping pills. He was 65. In 1960, some eighteen years after Albert Camus had raised and - so he thought - resolved the question of suicide in The Myth of Sisyphus, he was killed in a car accident. He is alleged to have said that dying in a car crash is the most absurd of all deaths. The absurdity of his death is compounded by the fact he had an unused train ticket in his pocket. He was 46. Let me say at the outset, at the risk of disappointing the reader, that I have no plans to kill myself ... just yet. Nor do I wish to join the chorus of those who proclaim loudly against suicide and claim that the act of taking one's own life is irresponsible and selfish, even shameful and cowardly, that people must stay alive whatever the cost. Suicide, in my view, is neither a legal nor moral offence, and should not be seen as such. My intention here is to simply try to understand the phenomenon, the act itself, what precedes it and what follows. I'd like to consider suicide from the point of view of those who have made the leap, or have come close to it-we might even find that the capacity to take that leap is what picks us out as humans. I want to look at suicide closely, carefully, and perhaps a little coldly, without immediately leaping to judgements or asserting moral principles like the right to life or death. We have to look suicide in the face, long and hard, and see what features, what profile, what inherited character traits and wrinkles emerge. Perhaps what we see when we look closely is our own distorted reflection staring back at us.