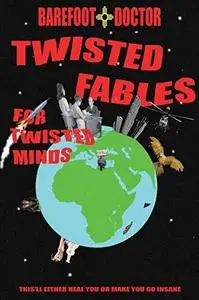 Twisted Fables for Twisted Minds: This'll either heal you or make you go insane By Barefoot Doctor,Cinematiko Meditori
2017 | 158 Pages | ISBN: 1912062240 | EPUB | 7 MB
What starts innocently enough as a series of apparently disconnected surrealistic subversive comedy vignettes addressing all aspects and quirks of the human condition, soon develops into a rip-roaring storyline of epic global proportions that climaxes unexpectedly in an explosive nuclear denouement, that paradoxically leaves you feeling cleansed and healed – or totally insane – if in doubt consult a medical practitioner before reading. This is Professor Cinematiko Meditori at his shining best. Previously hiding behind the Barefoot Doctor who agreed to front the project for its first round of publication with Harper Collins to protect the Professor from the abrasive glare of mainstream attention, and who both writes the sterling foreword in this new edition and features as a dramaturgic fulcrum device in each chapter, it's with a sense of honor and pride this edition is published whereby the author's true identity is finally celebrated. Parodying the uglier, more absurd side of the self-help industry as well as all the mugs who get regularly duped by the host of mountebanks and scoundrels with a facility for modern marketing technique and nothing much of substance beyond that who populate its sordid ranks, Twisted Fables will delight and enlighten you and provided your sense of humor is well-enough developed, have you creased up in uncontrollable healing laughter.