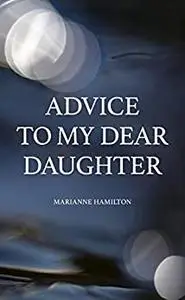 Marianne Hamilton, "Advice to My Dear Daughter"
English | 2020 | ISBN: 9151927896 | 115 pages | PDF | 21.1 MB
46 pieces of advice to inspire women to go for power positions and thereby have the possibility to truly make a difference.
Said about Advice to My Dear Daughter
"Marianne Hamilton has written a book which is perfect in timing and relevant in content. I believe that this book can contribute to a real change."
STAFFAN BOHMAN, Chairman of Electrolux
"Our executives around the world – most of them men – have read and greatly value the book. It increased their understanding of the particular challenges faced by women and enables them to better coach their employees."
HELENA HEDBLOM, CEO Epiroc Group
"Marianne Hamilton's book should be required workplace reading. The more people who take her advice, the more successful and better run our organizations will be – for everyone."
PETER VOSER, Chairman of ABB
"I hope this book is widely read! The author, Marianne, has done an excellent job describing how we create our own opportunities and influence our career path and that with perseverance we can reach the positions to which we aspire."
ROBIN TEIGLAND, Professor of Strategy and Digitalization, Chalmers University of Technology
"The content is down to earth, to the point, pragmatic and inspiring, and it provides excellent advice for young professionals in business – both women and men – and why not also for us who have been around a little longer."
MIA EKLUNDH, Chief Operating Officer, Roschier Attorneys Ltd.
"The book is my trusted breakfast companion and provides wise and useful support for tough situations. It was invaluable for me when I took on my first General Manager position."
SARA RADU, General Manager Berema AS
"I've read the book and can recommend it: it's no-nonsense and hands-on, able to unlock the potential of (young) women, giving them sound advice on how to handle specific situations in the workplace."
KRISTIEN VERMOESEN, Managing Partner, FINN
"This book is one of a kind. Gives clarity, without paraphrases and with actual examples. Works equally as a guide In business as well as career inspiration "
LISA GUNNARSSON, Head of Linkedin Nordics
"I would advise my dear daughter and all other ambitious women to follow Marianne Hamilton's lead. She is a role model and she eloquently shares her experience."
PETER MØLLGAARD, DEAN, Maastricht University
"I recommend the book to all women - and men – who are at the beginning of their career. But also to anyone who wonders why we are still talking about gender imbalance in leadership positions."
RONNIE LETEN, Chairman of Ericsson
"I really appreciate the pragmatic approach and believe that the Volvo Group can become even better by using its content."
MARTIN LUNDSTEDT, CEO, Volvo Group
"Marianne Hamilton draws a wonderful map that you can use to navigate – and succeed - in the business world."
FRANÇOISE CHOMBAR, CEO and co-founder of Melexis
"Practical and no-nonsense advice to young women interested in building a career. Also a very concrete guide to managers, male or female, interested in understanding the subtle challenges of building diversity in their teams"
EEVA SIPILA, CFO and Deputy to CEO, Metso Outotec
"The book is amazing! It provides inspiration and a lot of recognition and aha moments."
KARIN RÅDSTRÖM, Appointed Head of Mercedes-Benz Trucks