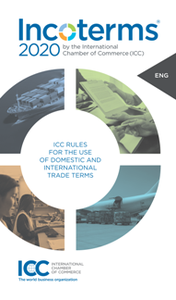 Incoterms® 2020 :
ICC Rules for the Use of Domestic and International Trade Terms
by International Chamber of Commerce
English | 2019 | ISBN: 9284205107 | 201 Pages | PDF | 5.82 MB
The Incoterms rules define important responsabilities of buyers and sellers for the delivery of goods under sales contracts. This book contains the ICC rules for use of the 11 Incoterms trade terms. They are the authoritative rules for determining how costs and risks are allocated to the parties.
Implementation Date: January 1, 2020
The first Incoterms rules were released in 1936 by the International Chamber of Commerce. They caused a sensation in the business world given that they represented a radically new concept in an industry regulated by local rules of law. ICC's Incoterms help traders avoid misunderstandings by clarifying the costs, risks, and the allocation of certain responsibilities of buyers and sellers in contracts for the sale of goods.
Incoterms® 2020 continues an 80-year ICC tradition and reflects the latest developments in commercial practice and updates, and consolidates some of the former rules. Changes made to the rules have been made to adapt the terms to new developments in world trade.
Rules for any mode of transport: EXW FCA CPT CIP DAT DAP DDP
Rules for waterway transport: FAS FOB CFR CIF
In addition to the 11 rules, Incoterms® 2020 includes:
- Extensive guidance notes and illustrative graphics to help users efficiently choose the right rule for each transaction;
- New classification to help choosing the most suitable rule in relation to the mode of transport;
- Advice for the use of electronic procedures;
- Information on security-related clearances for shipments;
- Advice for the use of Incoterms® 2020 in domestic trade.
If you want to support my blog, then you can buy a premium account through any of my files (i.e. on the download page of my book). In this case, I get a percent of sale and can continue to delight you with new books!